Structural Steel
We offer a range of standard sizes and lengths, and provide cut-to-length services, as needed, to give you steel shapes that match your design requirements.

We Offer a Range of Standard Sizes & Lengths, & Provide Cut-to-Length
A great many products fall under the category of structural steel, and each of their different shapes serve multiple uses. Used for making construction materials, structural steel most commonly takes the form of an elongated beam available in a number of profiles. We offer beams in all standard sizes, and will cut them to the lengths that your project demands. We offer a variety of structural steel products.
Special Services Also Include Hole-Punching Your Steel Order
OUR SELECTION OF STEEL STRUCTURAL SHAPES INCLUDES
Angles, I-Beams, Junior Beams, Wide Flange Beams, Channels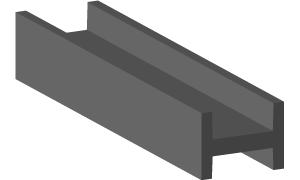 I-Beam
Most commonly used in construction and civil engineering, this beam's web provides great resistance against shear forces, and its flanges resist the bending the beam is subjected to.
Junior Beam
This type of beam has a lighter weight than a similarly sized standard beam, and is suitable for placement in projects where weight must be reduced without compromising integrity.
Wide Flange Beam
Referred to as a W-beam, this beam has the same shape as the I-beam, but sports wider flanges to absorb an even greater amount of the bending which the beam may be subjected to.
Channel
Also known as a C-beam, this structural steel component has two flanges at the top and bottom of its web that extend to only one side. Channels are often used where the flat, back sides of their webs may be mounted to another flat surface for maximum contact area.
Angle
The L-shaped cross section of this beam offers use in a variety of structural steel applications, general fabrication, and repairs.